Nestled at the foot of Mt. Tipton in the Cerbat Mountains on a gentle slope with an elevaton of 3400 feet, Dolan Springs, population 2,043 people, is surrounded by the unspoiled beauty of the high desert with no air polution, with an abundance of sunshine with unbelievable sunsets & sunrises, mild year round climate and friendly residents. The scenery is spectacular with colorful mountains.
Originally the area was called, LAKE MOHAVE RANCHOS. It is surrounded by the Lake Mead National Recreation Area, a federally administered National Park. Lake Mead has over 1000 miles of beach and shore line. At Lake Mead there is year round fishing, boating, swimming, water skiing, and marinas.
We have 24-7 emergency medical services and flight for life services.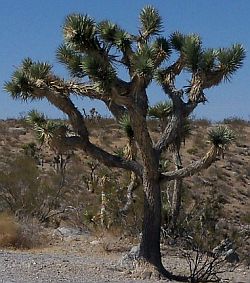 Dolan Springs, Arizona is an unincorporated desert community in Mohave County of approximately 28 square miles and located in the National Joshua Tree Forest of 200 year old trees. It is the largest Joshua Tree Forest in the world. Joshua trees are very unusual and you cannot find two that look alike. They grow at an altitude of approximately 3600 to 4000 feet.
Dolan Springs is a quiet western town that is well known as a gateway to Lake Mead. South Cove is part of Lake Mead and has a boat ramp so you can bring your boat for sight-seeing, fishing or swimming. There is miles of shoreline offering bass, catfish and trout fishing. The area has beautiful views of surrounding mountains and provides some very memorable views of Lake Mead. There are abundant hiking opportunities.
If you have horses, bring them on vacation, too. Or you can go to a ranch and go on trail rides. There are lots of off-road trails to ride ATV's and dirt bikes around. The area is "open range" which means that cattle roam from grazing area to grazing area with no fencing. While driving, be careful not to hit any cattle.
Dolan Springs is close to many attractions in Arizona and southern Nevada including Hoover Dam and the many casinos in Las Vegas that are just an hour away.